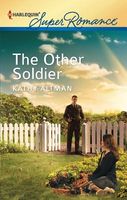 Corporal Reid Macfarland has one mission: to make amends for the mistake he lives with every day. That friendly-fire incident in Afghanistan that killed a fellow soldier haunts him. Maybe if he can help the widow, he'll find some peace.
Amends are easier said than done. Just one meeting with the independent and engaging Parker Dean makes it clear that forgiveness is a little more complicated than money or "I'm sorry." If he really wants to help, Reid will need to stick around for a while. The more their daily lives intertwine, the more he realizes her forgiveness isn't the only thing he needs -- he needs her.
Good book. Reid has come to Castle Creek to see Parker in person and apologize for his part in her husband's death. He wants to see if there is anything she needs or if he can help in any way. Parker is devastated by his confession and wants nothing to do with him. But she needs help and is forced to accept his for the next few weeks that he is on leave. She does her best to accept his help yet hang on to her anger. She also tries to keep Reid and her daughter apart, but Nat is insistent on being around Reid. He is able to help Nat with a few things she was dealing with, and he found himself really enjoying her company. Reid and Parker grew closer, and they soon found themselves fighting an attraction to each other. There was a lot of emotion in this book - not surprising given the storyline. Parker has to be able to accept Reid's apology, forgive him and be able to move on with her life. There were several places in the book where I wanted to smack her and tell her to lighten up. She held on to her anger a bit longer than she should have, but I liked the scene in the bar when she finally was able to let go. Reid also had forgiveness issues. He didn't really expect Parker to forgive him, but he had hope. What he really needed to do was forgive himself. I liked the way he gave his help to Parker, and I loved the way he was with Nat. His patience and insight did a lot for helping her move on also. I really enjoyed the way that this book dealt with a heavy subject. It was emotional without being overwhelming. I really enjoyed the ending and I hope to read more by this author.