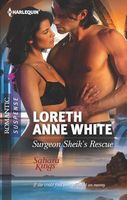 Series: Sahara Kings (Book 4)
Off the cliffs of Brittany, danger awaits. To Bella DiCaprio, the windswept island offers hope. The story that cost her a prestigious reporting job has brought her here, where a mysterious recluse holds the key to a horrific bombing….
For Sheik Tariq Al Arif, the grief is still fresh. That tragedy took not only his career as a lifesaving surgeon but also his fiancée. Only here, walking the windswept cliffs by the haunted abbey, does he begin to feel alive again. And when the American beauty shows up on the storm-ravaged island off the coast of France, he knows their passion is dangerous.
To desire is to dare: can either take the risk to love again?
Very good book. Bella had come to the island researching a story. She had been following the story of Tariq for a long time and thought that the reports of his death were untrue. After a lot of research she thought he might be on the island and came to try to talk to him. She had also discovered a link between his family and a man running for president and wanted to talk to him about that. Tariq was on the island trying to recover from the injuries received during a bombing. He was avoiding all contact with people when Bella was able to get his attention. He felt the first stirrings of feelings since his fiancee's death in the explosion and it didn't make him happy. When he found out who she was, he was furious and worried that information she knew would endanger his family. The final confrontation was gripping and the conclusion was very satisfying. I really liked both Bella and Tariq. Bella had been an excellent reporter and had felt like she lost part of her identity when she lost her job. Her determination to get this story was so she would feel worthwhile again. She felt that she was on the right track when she was attacked in DC. The immediate attraction she felt when she met Tariq seemed to be a continuation of the feelings she had when she was writing about him. When those feelings grew stronger she knew she had to come clean to him about who she was and what she was doing. Tariq had been hiding out on the island, basically wallowing in his grief. He had lost his ability as a surgeon as well as his fiancee. When he and Bella met, she called him on his withdrawal from the world. His initial fury over Bella's deception began to fade as he found out more about what she knew and realized what it meant. When he went after her he found that the bad guys were after her too and discovered that he wanted her in his life permanently. I loved the way everything went down and the way Tariq supported Bella.