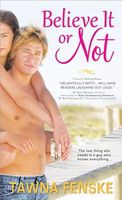 Do you believe in...accounting?
Numbers never lie, so Violet McGinn found safe haven in the most boring profession she could find. Until her renowned psychic mother lands in the hospital and Violet has to run her business. Now you can have your taxes filed and your aura read, in one convenient location.
Do you believe in...music?
Drew Watson is the jaded owner of the local hot spot next door, and doesn't need a single thing except a good crowd to dance to what he's spinning on Saturday night.
Do you believe in...love?
The only thing Violet and Drew seem to have in common is that neither believes in that psychic hoo-hah. Except Drew seems to play exactly the right song at exactly the right time. And truth be told, it makes Violet's heart dance just a little ...
What a fun book. Violet came home to Portland to help her mom who has ended up in the hospital. Mom is a somewhat flaky psychic who provided Violet with an unconventional childhood. Violet countered that upbringing by becoming a straitlaced accountant and moving across the country. All she wants is a normal life with a normal husband, etc. Now, mom has more or less blackmailed Violet into running the psychic business until mom can get back to it. Violet doesn't even believe in psychics, so she has no idea how she's going to do it. Drew is the owner of the bar next door who has been involved in a low level running feud with Violet's mom. She doesn't approve of his business and lifestyle and he thinks she's a flaky con artist. When Violet and Drew meet, there's an attraction, but as neither is anything like what they want they try to just ignore it. Violet is afraid of ruining her mom's business, so she tries to figure out what people are looking for by talking to them. Strangely enough, she finds that music playing from next door seems to answer her needs with each reading she does. She starts to wonder if maybe there's something to the psychic business after all. I love the way that the interactions between Drew and Violet go. They have some great conversations, frequently full of innuendo, nearly always dealing with their rivalry. I loved the zany characters - mom's friends, Drew's coworkers, Violet's clients all have their moments of hilarity. There is a great scene with Violet, Drew, the doctor she's dating and one of mom's friends that is hilarious. There are some great almost sex scenes where something always happens to stop Drew and Violet from going all the way. I loved the way everything came together at the end.