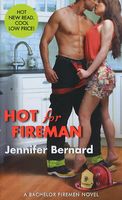 Series: Bachelor Firemen (Book 2)
If love is a battlefield, it's time to fight fire with fire.
Enter: THE BACHELOR FIREMEN OF SAN GABRIEL
Katie Dane knows better than to mix business and pleasure, but her new bartender, Ryan Blake, is simply irresistible . . . and besides, she doesn't plan on working there much longer. That's if things go according to plan. But they never do, do they?
Ryan, the sexy heartbreaker of Station One, is determined to rejoin the force. Tending bar in the meantime seems like the perfect idea, especially when it means he can spend his nights working next to his sultry new boss . . . if only the bar didn't keep catching fire.
Throw in a grizzled career criminal, a luscious-bodied barfly, a Bachelor Fireman bachelorette party, a flash-fire romance, and a million-dollar money pot, and suddenly playing with fire never seemed so much like falling in love.
Good book. Katie is stuck running the bar for her dad, who had a heart attack and must reduce his stress. The bar is not doing well and Katie is having problems paying the bills. She also has an ex-boyfriend who refuses to accept the ex part. Ryan is on leave from firefighting and at loose ends. So he takes a job as a bartender, enabling him to stay close to Katie. They have been having problems with fires breaking out at the bar, and Ryan's abilities as a fireman have come in handy to stop them. Then Ryan finds out that Katie has been behind some of the fires in an effort to get rid of the bar and get the insurance money for her parents. After Ryan explains what a bad idea it is, he figures the bar should be safe. He and Katie have been getting closer and he finds that she has a way of making him very happy. I really liked Ryan. He is a nice guy who has made some bad choices in the past but has made a good effort of getting back on track. He is a bighearted guy and you can see how much he cares for his friends at the firehouse. I loved the way he took care of Katie and tried to help her with her problems. Katie I had a little more trouble with. For the most part I really liked her. She was making the best of a bad situation at the bar, trying really hard to keep it going. My biggest problem with her was the way she thought burning down the bar was a good idea. Even after Ryan explained things to her, she kept doing it. Plus, the way she kept talking to her ex about it, even after she told him to stop just irritated me. She should have told Ryan what he was doing and had done with it. She was pretty spineless when it came to standing up to people - Doug, her parents, her sister all walked right over her. When the final fire at the bar happened, I was glad to see the way she stood up for Ryan and let everyone have it. I thought that the way all the issued were solved was brilliant.