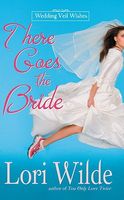 Series: Wedding Veil Wishes (Book 1)
Legend claims this antique Irish wedding veil can grant your heart's deepest desire. But be careful what you wish for...
The moment Texas socialite Delaney Cartwright touches the veil, she knows she can't go through with her wedding. And it's not just because she envisions a stranger's dark eyes and irresistible lips the second her fingers hit lace. But she can't simply call the whole thing off. The nuptials to her nice, predictable childhood friend are the social event of the season (not to mention that her mother would freak). To fan the flames of this dying ember, Delaney abducts her fiance for a night of passion...and grabs the wrong guy! It isn't her fault that Detective Nick Vinetti of the oddly familiar eyes and lips has crossed her path--and looks game for all kinds of sexy fun.
Now Delaney hatches an outrageous plan to get out of marrying: she'll hire her own kidnapper. With an altar to avoid and a cop to dream of, this runaway bride is hoping a little Irish magic will unveil the true destiny of her heart.
Pretty good book. Delaney found this magical wedding veil and saw a different man than her fiance when she touched it. A few days later she met that man when she tried to kidnap her fiance for a wild weekend and got Nick instead. There are immediate sparks, but neither follows through on them. She meets Nick again when she starts renovations on his grandmother's house - who is trying to throw Delaney and Nick together because she feels that they belong together. As they spend time together, the sparks grow hotter and they get to know each other. But Nick refuses to get involved with another man's girl since he was on the wrong end of that once. The closer the wedding comes the more she realizes she doesn't want to go through with it, but she can't just call it off. So she arranges for her own kidnapping, but that goes wrong also. The last parts were pretty wild, but it all worked out in the end. I really liked Nick. He was a nice guy who was really honorable. As much as he liked Delaney, he really didn't want to be the "other man". He had his commitment issues, but overall they weren't too bad. I loved the way that he saw Delaney and who she really was under all the high society training from her mother. He was terrific at getting her to shake it up and be herself. I had a harder time liking Delaney. I really hated her lack of spine in standing up to her mother. For a lot of the book she seemed to be quite content to let her mother take over everything and nit-pick her. I kept waiting for her to just rip into her mother, but it never really happened. There was an interesting side plot with her mother and a blackmailer that ended up explaining a lot about her. I'm looking forward to reading others in the series.