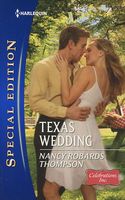 Series: Celebrations Inc. (Book 1)
The groom came ... COD? Well, maybe not exactly. But just when unlucky-in-love AJ (that's Agnes Jane to you!) had decided that she was going to focus on her career as a caterer and keep her mind off men, that's when fate sent her a delivery she couldn't ignore. In the form of Sergeant Shane Harrison, bearer of French chocolates, and newly arrived for a short-term project. And though clearly the good sergeant was as attracted to the lovely caterer as she was to him, Shane made it clear that when his job was done, he was outta there….
So now AJ has a project of her own -- convincing the handsome footloose soldier that though he'd planned to breeze through town on his way to his next adventure, falling in love is the biggest adventure of all!
Good book. Shane is in Celebrations working on a short-term project for the Army. He stopped in to see AJ after being given some French chocolates for her by a candymaker in Marseilles. He is immediately attracted to her and wants to get to know her better. AJ's catering business is picking up speed and she doesn't need the distraction of a good-looking man who won't be staying around. But there's something about him that makes her want to get closer. I really liked both Shane and AJ. Shane's career keeps him always on the move, which is fine with him. He lost his entire family in a tragic way when he was eighteen, and has made the conscious decision to avoid love and commitment to prevent those feelings of loss from happening again. But first he finds a stray dog that adopts him, then he discovers that AJ is making him feel things he'd never felt before. He gets involved with helping AJ with her business, and gets to know and like some of the local people. I really like AJ also. She has worked really hard to make her catering business successful, in spite of the snotty attitude of her grandmother. I loved seeing her work her business and how much she enjoyed cooking for people. She is very attracted to Shane but us also very cautious. Her fiance had been a cop and was killed on duty five years earlier. Shane is the first man she has been interested in since then. She tries to tell herself she can handle a short-term thing, but soon finds herself wishing for more. I really liked the way that they both were finally able to open themselves up to love, and their solution on being together was perfect. I loved how her friends supported and helped her, and I'm really looking forward to their stories.