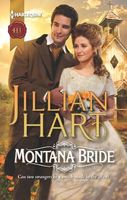 Willa Conner learned a long time ago that love is only in fairy tales. Left widowed, pregnant and penniless, Willa's last hope is the stranger who answers her ad for a husband.
Austin Dermot, a hardworking Montana blacksmith, doesn't know what to expect from a mail-order bride. It certainly isn't the brave, beautiful but scarred young woman who cautiously steps off the train….
Trust won't come easily for Willa -- it's hard for her to believe she's worthy of true love. But she doesn't need to worry about that, because this is just a marriage of convenience…isn't it?
Good book. I loved Austin. He was such a kind and gentle man who was looking to find a love of his own. Since there weren't too many single women in Moose, he went for a mail-order bride. Willa had reached the point of desperation. Her first husband had been an abusive drunk, and when he died she lost everything. She was pregnant and broke, but Austin's letter was the answer to her prayers. She didn't know what to expect, but she knew she couldn't trust a man. I really loved the way that Austin started out so very kind to Willa, and intent on taking care of her. He was hoping that love would come quickly to both of them, since he wanted the same things his siblings had. Willa had never experienced love of any kind and didn't believe it existed. She kept waiting for bad things to happen to her. I thought Austin's patience with Willa and her fears was wonderful. He was sure that if he just kept at it, his dream of a happy marriage would come true. I loved the way that Willa slowly came to trust Austin. I could see that she was falling in love, but that she just didn't recognize it. I thought the final scene when she finally opened her heart was so great.