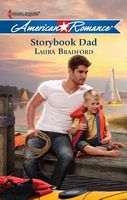 Real Life Is Not A Fairy Tale...Right?
When Mark Reynolds first meets Emily Todd, he's smitten. So is Seth, his son-which is why Mark has to nip this attraction in the bud. Emily's been honest about her diagnosis, and Mark can't put Seth through the heartbreak of another illness. Even though Emily is fit, sexy and oh-so-alive.
Mark's as close as any man's come to being the prince Emily imagined when she was a girl, right down to the gorgeous, ocean-blue eyes. But that girl never imagined herself with MS. Emily doesn't want to be anyone's burden, and she doesn't want to hurt Mark's vulnerable son. So she'll harden her heart, stick to her work and forget about the magic of Mark's touch. Can two grown-ups with their minds made up learn a lesson in love from a four-year-old boy?
Very good book. Emily owns and runs a high adventure company. She met Mark when he took a compass class from her. She then met his son Seth a little later and was drawn to the adorable little boy as much as she was his father. Mark was also very attracted to her, but reluctant to get involved with anyone so soon after his wife's death from cancer. When he finds out about Emily's illness he is even more reluctant to risk his son's heartbreak. I loved Emily and her determination not to let her MS rule her life. She was doing everything possible to make sure she stayed well for as long as possible. The only issue she had was her decision to remain alone, rather than be open to a relationship. She was afraid of being a burden if her disease got worse. Mark's biggest issue was being overprotective of Seth. When he finally realized his error, I loved the way he showed Emily she would never be a burden. I also loved the way that Emily decided to expand her business.