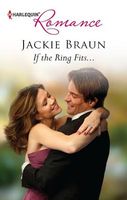 Practical Rachel Palmer's aversion to risk-taking led to a marriage that just didn't fit. Now single again, she's embracing her newfound independence -- and the first step is taking her jewelry business worldwide! For that she needs expert help from Italian Antonio Salerno….
His business help soon turns personal. And being in close-enough-to-kiss proximity to a sexy playboy makes Rachel feel she's taking a flying leap into deliciously risky territory. It's everything she's been craving…but this is a man famous for loving and leaving. Surely falling for him would be a step too far?
Good book. Rachel is moving on from her divorce and able to spend more time on her jewelry making. One of her best customers is Tony Salerno. The sexy playboy has always been nice to her, but he is now spending a lot of time on her. He has offered to help her with her business. He also made it clear that he is interested in her on a personal level. When she needed a place to live, he offered his house while he was going to be away. While he was gone they spent a lot of time on the phone, getting to know each other. He also introduced her to people that helped her business go international. They grew closer on the trip and gave in to their attraction. I really liked both Rachel and Tony. Rachel had decided to take her life back and was ready to take some chances. She did have some problems with her self esteem, thanks to her ex-husband. I loved Tony. He knew there was something about Rachel that appealed to him and he wanted to explore the possibilities. I really liked the way that he treated Rachel. He wanted to do things to make her happy. He is normally a guy that avoids commitment and ends relationships before they get serious. But he finds that being around Rachel gives him feelings of happiness and contentment that he's never felt before. It took him a long time to realize that what he was feeling for Rachel was love. Rachel knew she was falling for Tony, but couldn't believe it would last, since she was nothing like the women he usually dated. She was sure the relationship would end, not that it would move on to something permanent. I loved the way that he made his intentions clear - it was so romantic.