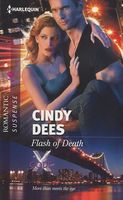 Series: Code X (Book 2)
She was a target-and a job for a very special agent.
Trent Hollings has been secretly engineered to be the fastest man on earth. But when undercover forensics accountant Chloe Jordan walks into his life, with all her sexy reserve, time stands still for him. Not even the threat of retaliation from a powerful drug cartel can stop Trent from using his superhuman skills to keep her safe.
Chloe takes one look at Trent and sees everything she's ever craved and avoided when it comes to men: adventure...and lies. Still, she knows that it's only a matter of time before she surrenders to this smoking-hot man. But when the enemy finds them, Chloe is confronted with a truth that could destroy her love for Trent forever....
Very good book. The suspense kept me turning the pages until it was finished in one sitting. Chloe and Trent meet when Chloe's sister marries one of Trent's teammates (see Breathless Encounter). They are immediately attracted to each other. Chloe is nearly killed by a hit and run driver and Trent saves her. That night they act on their attraction, but Chloe pulls away afterwards and goes home to San Francisco. Trent suspects foul play and his boss assigns him to watch over her until the can find out what is going on. Meanwhile Chloe is working on her undercover accountant job for the FBI. She is attacked again after a coworker gives her a flash drive of information. Once again Trent is there to save her and this time insists on staying close to protect her. More attempts are made as Chloe races to find the information that someone is trying to kill her for. She is also fighting her attraction to Trent, and coping with his amazing speed. I really liked both Chloe and Trent. Chloe has led a very calm and orderly life until now. After she is nearly killed she gives in to her attraction to Trent and has a passion filled night that is unlike anything she has ever done before. The intensity and loss of control freaked her out and she vowed not to let it happen again. When she is attacked again in San Francisco and saved by Trent, she refuses to believe that she is in danger. Trent refuses to leave her side as she works on her assignment. Her continued attraction bothers and distracts her. Because of her childhood it is very important to her that she keep control of her life and her emotions. Trent is also wildly attracted to her. She has come to mean more to her than any other woman has. He sees the passionate woman inside her and begins to understand after he learns of her childhood. His method of helping her overcome those feelings was very interesting. There were some very interesting twists to this plot that came out in the final confrontation. I have really enjoyed this series so far and expect it will continue to be very good.