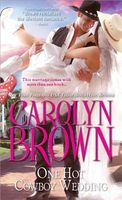 Series: Spikes & Spurs (Book 4)
A marriage made in Vegas...
Hunky cowboy Ace Riley wasn't planning on settling down, but his family had other plans for him...The only way to save his hide, and his playboy lifestyle, is to discreetly marry his best friend, Jasmine King.
Can't possibily last...
Fiesty city -- girl Jasmine as just helping out her friend -- that is, until their first kiss stirs up a whole mess of trouble, and suddenly discretion is thrown to the wind.
One hot cowboy, one riled up woman...
And they'll be married for a year, like it or not!
Very good book. I love this series with its hot cowboys and spunky women. Ace found out that, due to an unknown clause in his grandfather's will, he has to be married within two weeks or lose his ranch to an unpleasant cousin. He's had no intention of settling down and hasn't been dating anyone he'd be willing to marry. Then his best friend Jasmine offers to marry him. They plan to marry quietly, and continue their lives as before. Then their wedding ends up on the news and everyone in town knows about it. Thanks to their first kiss at the wedding chapel, they're no longer thinking of each other as just friends. The sparks between them are intense, and they don't quite know what to do about it. They had intended to stay married for a year, then divorce and stay friends. Now all they can think about is the next time they can give in to their passion. Jasmine's mother is ticked that Jasmine didn't have a "real" wedding and is planning a blowout that neither of them want, and Jasmine can't tell her no. Suddenly her folks is talking about buying Jasmine's cafe and running it themselves so she can have babies. Both Ace and Jasmine are confused and trying to figure out what happened to their plan. I loved the way that Ace and Jasmine were friends for a long time before they fell in love. This made the initial decision very easy for them, but threw them for a loop when they suddenly discovered that friendship wasn't enough anymore. I loved the mental conversations they had, trying to talk themselves out of doing what they really wanted to do. I loved the other characters in the story, some from previous books and some new. Jasmine's mother was a steamroller and I loved the scenes with her and Jasmine, especially when Jasmine finally put her foot down about the wedding. Ace was a real sweetheart, and for all his playboy ways I loved the way he treated Jasmine. I thought the ending was fantastic and I can't wait to read the next one.