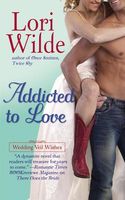 Series: Wedding Veil Wishes (Book 3)
Growing up in Valentine, Texas, can make anyone believe in happily ever after. But newly declared recovering romantic Rachael Henderson has decided that love stinks. After having not one but two grooms ditch her at the altar, she announces her disenchantment in an uncharacteristic act of rebellion. She feels liberated...until she's arrested by Sheriff Brody Carlton.
Once upon a time, being hauled against the taut, rippling body of her first crush would have had Rachael planning the wedding of the year. Now it spurs her to created Romanceaholics Anonymous, a twelve-step program for love addicts. Soon all of Valentine is divided as die-hard romantics clash with antilove cynics. But when Rachael starts fantasizing about a lust-filled affair with Brody, she goes against everything the program stands for. Should she protect her fragile heart...or find a way to have her wedding cake and eat it too?
Very good book - my favorite of the series so far. Rachael has given up on love. She was just left at the altar for the second time, so she heads for her hometown. She blames Valentine for giving her unrealistic expectations and takes it out on the town landmark - a giant set of lips which she paints black. She is promptly arrested by Sheriff Brody Carlton - the same guy she had a crush on when she was a child. She is sentenced to community service, and while she's at it starts a Romanceaholics Anonymous group for others who are fed up. This creates some dissension in town, as well as the sides people are taking over the possibility of a Valentine amusement park. Rachael also finds herself drawn to Brody, but is fighting it because of her previous troubles. Brody is also very attracted to Rachael, but has his own fears to deal with. I really liked both Rachael and Brody. Rachael finally realized that she was in love with love, and that's what had been getting her into trouble. So in spite of her attraction to Brody, she tries very hard to keep away from romanticizing things. She is also stunned by the way her RA group has taken off, but likes helping people find their way to a healthier relationship. I also liked Brody. He was back in Valentine as its sheriff, after dealing with his divorce and his war injury. Both of those have also left him cautious about love. I really liked the way that he realized that he was falling for Rachael, but knew that typical romance would drive her away. So he treated her more like a friend and they grew closer that way. I loved the way that he was so respectful of her views. I loved his vulnerability when they finally got physical and he had to expose his leg to her. I really liked his patience in waiting for Rachael to be ready. I also enjoyed the various characters in town. They really added to the story. There were a lot of funny parts, too, starting with the vandalizing of the lips.