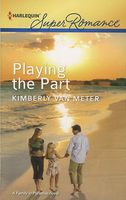 Series: A Family in Paradise (Book 2)
If Lindy Bell had her way, she'd still be in L.A., partying and angling for her next acting job. But a crisis at the family's resort has surfaced, and who can ignore the call of duty? Still, duty would be easier to take if she didn't have a bratty kid making trouble. Too bad the dad, Gabe Weston, can't seem to put down his phone long enough to see his daughter needs his attention.
When Lindy points out to Gabe the error of his ways, sparks fly and she has his undivided attention. Unexpectedly, the three of them -- Lindy, Gabe and his daughter -- bond in a serious way. Such a serious way, in fact, that Lindy may be auditioning for a new role she never considered before…
Very good book. There was a lot going on in this book. When they met, Lindy was dealing with a mess caused by Gabe's daughter. She was furious at what she saw as bratty behavior, and disgusted at Gabe's apparent obliviousness. When she finds out that his wife had passed away, she begins to understand Carys's actions. Her understanding helps Carys, but Gabe doesn't really want Carys hanging around someone like Lindy. They find that they have a serious attraction to each other, but try not to give in to it.
As Lindy points out that Carys's actions are a cry for attention, t
hey start spending time together to help Carys and Gabe renew their bond. Lindy and Gabe enjoy their time together, but feel that there is no future in it. I liked Lindy, Gabe and Carys. Lindy had come home to help at the resort, but resented being away from LA and it rather showed in her attitude. She felt that being away would be detrimental to her career. She also couldn't understand a dad who was so wrapped up in his business even on vacation that he couldn't spend some time with his child. She also was dealing with worry over her grandfather, who was suffering from dementia, and the financial condition of the resort. Her twin sister was also behaving oddly and Lindy was unable to get her to talk about it. She found herself falling for Gabe, but couldn't see any way that a relationship between them would work out. When he made unpleasant remarks about her career she was furious and hurt and walked away from their relationship. Gabe was still trying to deal with the loss of his wife and becoming a single dad. He couldn't understand how Carys had gone from a sweet child to a monster and didn't know how to fix it. At first he resented Lindy's interference, but soon realized that she was having a good influence. He didn't want to be attracted to Lindy. He felt he had no time to have a relationship with a woman because of his business and taking care of Carys. He also found that he couldn't stop wanting to be with her. When their big fight happened he and Carys went home, but missed her terribly. It took a few weeks and some soul searching on their parts, but I liked the way things worked out and am really looking forward to Lilah's story.