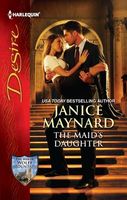 Series: Men of Wolff Mountain (Book 4)
He thought he was finished rescuing damsels in distress. After all, hadn't playing hero gotten millionaire Devlyn Wolff into enough trouble? Still, when a car accident lands Gillian Carlyle at his feet, he can't walk away…even when he learns of her connection to his past.
Giving Gillian a job with his new business venture is not Devlyn's way of assuaging age-old guilt. Nor is it a way to keep her close. At least he tells himself that, even as he knows seducing the maid's daughter will lead him where he never meant to go…
Good book. Gillian is back on Wolff Mountain and staying with her mother while she looks for a new job. When her car goes off the road in the rain, she is rescued by Devlyn, who doesn't recognize her at first. When he does, the feelings of guilt over the way he treated her one time when they were children come rushing back. He also discovers he is very attracted to her. As a way to help her out while keeping her close, he hires her as a consultant for the school his family is building in the nearby town. Their attraction is intense, but both of them have some serious issues to overcome before they can be together. I really liked both Gillian and Devlyn. Gillian was very cautious about being around Devlyn. She knew that their attraction couldn't go anywhere. He is a rich playboy who dates some of the most beautiful women around. She is an ordinary looking third grade teacher whose mother is the Wolff's housekeeper. Those feelings aren't helped by her mother who keeps emphasizing those differences instead of telling her that she is good enough for anyone. Devlyn has never wanted to commit to anyone. He has some things in his past that make him certain that he would never be a good husband or father. When they split over his attitude, both are heartbroken, though he doesn't really understand why he feels the way he does. Gillian goes to him and finally gets the story of why he feels as he does and is able to show him how wrong he is to be worried. I loved the way she went after him and wouldn't let him chase her away.