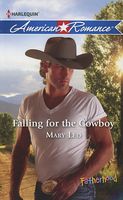 Series: Fatherhood
This Cowboy's Off-Limits...
Single father Blake Granger-Doc Blake to his young patients-knows trouble when he sees it. But he needs a fill-in assistant pronto, and gorgeous Maggie Daniels is his only option. The big-city girl surprises him, though, when she takes to life in Briggs, Idaho, quicker than expected. And-more important-she's taken to him and his adorable tomboy daughter.
Or Is He?
Maggie never pictured herself living in close proximity to cows. But her weak-kneed attraction to the heartthrob of every female within wooing distance is wreaking havoc with her future plans...especially with a dream job waiting back home in California. Is her destiny really to move to a small ranching town? Could she really be falling for the cowboy?
Good book. Maggie is in Briggs while she looks for a new job and to take care of her sister who is pregnant with twins. She ends up working for Blake who needs someone to help in his dentist's office. He doesn't know if Maggie will work out. She is obviously a big city go getter and he can't see her sticking around for long. He is also very attracted to her. Maggie has no intention of staying in Briggs any longer than necessary. But she needs a job while she waits to hear about her job applications. She is also attracted to Blake. She also finds herself getting involved in the small town and with Blake and his young daughter. I really liked both Maggie and Blake. I thought Blake was terrific with all the kids who were his patients. He was also a terrific dad and I liked the way he was there for his daughter when she needed him. His ex-wife had been a city girl who never wanted the small town life. When he looked at Maggie he saw the same thing, but his attraction to her was even stronger than he'd had with his ex. I really enjoyed the way he challenged Maggie to get involved with various aspects of the town. I also loved the way he was there for Maggie when her sister ended up in the hospital. That event also showed the benefits of living in a small town. I could easily see how much he was coming to care for Maggie and how much he was hoping she would want to stay. He also wanted to protect himself, so he never actually came out and asked her to stay. I really liked the way that Maggie came to Briggs to help her sister. She considered herself a city girl and couldn't see herself actually enjoying her time in Briggs. As soon as she saw Blake she was attracted to him, but didn't want to pursue it. She also was certain that children didn't like her, but quickly found that she related well to them and had a great time with Blake's little girl. I also enjoyed seeing her get involved with town activities like the fair. The tug of war scene was absolutely hysterical. The more things she did, the more she discovered she really enjoyed the small town life, but she also didn't want to give up her dream job. When she accepted that job and left for LA, it was a real eye opener for her. I loved the way her sister made her think about what she really wanted, and the ending to the book was fantastic.