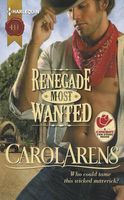 Sitting in the finest secondhand wedding dress she can find, Emma Parker watches the clock tick down. She needs the most willing cowboy in town to become her husband before the sun sets -- or she'll lose her first ever real home.
Then Matthew "Singing Trigger" Suede saunters in, and his cover as the "Robin Hood of the West" is almost blown as he escapes from a bank. So Emma offers the renegade an alibi to save him from the noose…if only he'll escort her down the aisle -- immediately!
Very good book. Emma was in town to find a cowboy willing to enter into a temporary marriage with her so she can file her homestead claim. She had been unsuccessful until overhearing a man about to be arrested for robbing a bank. When she saved him (a very funny incident), he agreed to help her out. She wasn't expecting him to stay around, much less bring a child, a youth and a cousin with him. Matt agreed to stay around through the summer, long enough to build her a house and help her get settled. He has an outlaw after him, threatening to kill him, and he doesn't want to get her hurt because of him. As the summer goes on, they come to care for each other, but won't take it any further because he has to leave and she won't give up her home. When a crisis occurs, each much decide what is more important. I really liked both Emma and Matt. Emma was determined to have the permanent home she had never had, and do whatever she had to in order to keep it. She didn't intend to care for Lucy and Matt and the rest, but she did. Matt had never seen himself settling down, but the more time he spent with Emma, the more he wanted to stay. He also enjoyed working the land more than he ever thought possible. There were some great scenes of Matt and Emma fighting their attraction. The final scene in town was fantastic.