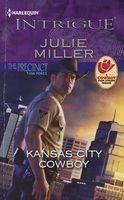 Series: Precinct: Task Force (Book 2)
For small-town sheriff Boone Harrison, the investigation into a serial rapist turned killer is painfully personal. Boone's priority is to find the coward who murdered his sister. But to accomplish that, he'll have to work with Dr. Kate Kilpatrick, a secretive woman whose striking beauty and kind heart just may be the lawman's undoing….
Forensic psychologist Kate Kilpatrick was wrong about Sheriff Harrison. He's smarter and more resourceful than she'd given him credit for -- and entirely too attractive. In their combined grief, Kate finds something she didn't even know she needed: protection. Because when the Rose Red Rapist sets his sights on Kate, she'll need more than the power of the badge to save her. She'll need her very own cowboy.
Very good book. The KCPD is still trying to find the Rose Red Rapist. The latest victim has also been murdered. That victim's brother has come to town, looking for answers. When his search starts to interfere with the official investigation, Kate gets put in charge of working with him - or keeping him from causing problems. She is the profiler, and also the media rep. This puts her in the public eye and when things start happening to her, Boone is there for her. There is also an attraction between the two of them, but both have trust issues as both were cheated on by their spouses. I really enjoyed Boone's protectiveness, but also the way that he respected Kate's mind and the way she did her job. I liked seeing the way that Kate's mind worked, as she tried putting clues together from the various crime scenes. There were a couple of interesting twists in this story that once they happened I could see where the clues were. I haven't decided if there were clues in the story as to the identity of the Rapist, or if I'm imagining it. I can't believe the next one won't be out until next year -- I don't want to wait!