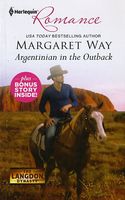 Series: Langdon Dynasty (Book 2)
Beautiful Ava Selwyn is starting to take her life back into her own hands when Juan-Varo de Montalvo arrives at Kooraki cattle station. The dark-eyed Argentinian unsettles the usually composed Ava.

Varo can see the wariness in Ava's eyes, and something in him cries out to protect her, but life on the other side of the world will soon call him back.


Varo has the power to make Ava whole once more -- if only she'll let him in...
Pretty good book. I liked Ava and the way she was taking back her life. I was glad to see that she finally got up the courage to leave her abusive husband. When Varo came to Kooraki to visit Dev and participate in the polo match, Ava was stunned to find that she was attracted to him. She didn't want to be, and she was still very wary of men. Varo didn't expect to meet someone like Ava. He was immediately attracted, and enjoyed spending time with her and getting to know her. He could see that she had been hurt, and was doing his best not to spook her. I liked seeing him stand up for her, especially against her bitchy cousin Karen. Ava didn't know if the feelings they were sharing would last, especially since she knew he would be returning to his home. I loved the concluding scene with Ava's husband Luke, and was glad to see him get what was coming to him.