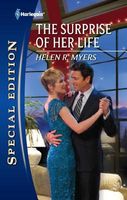 Eve Easton had had enough "neighbor" trauma to last a lifetime, seeing as how her now ex-husband had run off with the woman next door. So off Eve went, to a new state, a new city, a new everything -- only to find out her new next-door neighbor was her fellow dumpee, Derek Roland. The tall, dark and handsome former spouse of the woman Eve's ex left her for. Got it?
Well, she got it. And when it came to her neighborly policy, she was strictly "hands-off." Only she had a hard time resisting Derek, as did he, her. Seems as though both of them had traveled miles and miles just to find what they were looking for...right in their own backyard....
Terrific book. I really liked Derek. Besides being tall, dark and hunky, he is a truly nice guy. I loved the way that he took care of Eve when they went out. I could see how much he cared right away, and that he was doing his best not to rush Eve into more than she could handle. Eve was great, too. She started out fighting the relationship, thanks to the damage her ex-husband did to her self-esteem. I loved the way that her boss was so good to her and helped her realize that she deserved to be happy. I almost cried when Eve appeared ready to throw it all away, and was so glad when her boss helped Derek get together with her again. Derek's superior's visit at the end of the book was great. I loved the respect he showed to Derek. I also loved the way that Eve and her boss coped with the wife's nasty attitude, and Eve's confrontation with her at the end was great. When Derek and Eve were together I could feel the love between them. I laughed at Eve's calling Derek "G-man", and the way they completed each other.