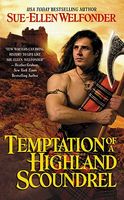 Series: Highland Warriors (Book 2)
Despite an official peace, old conflicts smolder in the Glen of Many Legends. Kendrew Mackintosh, Chieftain of his clan, is famed as both a bold and hot-blooded warrior and a sensual lover. He has no intention of settling down . . . until he kisses a forbidden beauty whose passion matches his own.

Highborn and gently raised, Lady Isobel Cameron has long harbored a secret fascination for the fearless, charismatic Mackintosh—even though her brother is his sworn enemy. When destiny draws them together for one night, she can't resist him. But what begins as a flirtation soon becomes a fight for survival. A deadly new threat has come to the glen, and Kendrew and Isobel must learn to trust and protect one another—or pay the ultimate price.
Very good book. Isobel, Catriona and Marjory (the three sisters of the lairds) had sworn to marry into the other to help cement the truce. Isobel had always been drawn to Kendrew. His land is somewhat bleak, rocky and rather harsh. His people tend more toward the Viking ways. He has felt that there is no way a lady would be able to handle life at his home. Isobel loves the wild, untamed feel of Nought, and would love to live there. She tries several times to show Kendrew how she feels, but he fights it. He is drawn to her also, but refuses to subject her to life at Nought. When circumstances create a betrothal between them, she accompanies Kendrew home. On the way they are attacked and must work together to overcome the threat. I really enjoyed the way that Isobel worked to get what she wanted. I also enjoyed the presence of the ghost of Daine and the dreagans and their assistance. I'm really looking forward to the final book in the series.