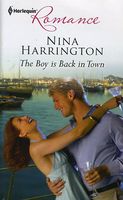 There was a time when the devastatingly sexy Ethan Chandler left Marigold Chance blushing and tongue-tied but thankfully, that's all in the past. Now that the ice-cool international yachtsman has sailed smoothly back into her life, she's determined to show him that the ugly duckling's become a thoroughly modern swan -- a beautiful, driven businesswoman with no time for him!

Yet Ethan seems equally determined to ruffle her perfectly groomed feathers and show her what she's been missing out on....
Pretty good book. Mari had come back to Swanhaven to see her sister and to try to buy the house they had grown up in. She had spent the last ten years since her brother's death building a new life for herself as an IT specialist in California. Now she's planning to start her own business back where she grew up. Ethan was back to renovate a house for his parents, then he would return to Florida. He had never forgiven himself for his part in Kit's death. He also had had a crush on Mari, but never felt good enough for her, especially after Kit's death. When they met again, the attraction was still there if they could only take advantage of it. Both Mari and Ethan had problems letting go of their pasts and looking to the future.