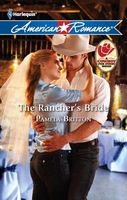 Rude with a bad attitude -- that's Ryan Clayborne, all right. From the moment she meets her new boss's son, Jorie Peters vows to spend as little time as possible with the surly rancher. That she has to plan his wedding? Well, that's just bad luck. The sparks shooting between them? Those are a Texas-size disaster.
The last thing Ryan needs is some big-city wedding coordinator stomping her high heels all over his ranch. He has bigger things on his mind -- mainly a temporary marriage to a friend he doesn't love. But one look at Jorie turns the cowboy's life, and heart, upside down. Heated thoughts lead to cold feet, but Ryan's still determined to do the honorable thing. Even if doing right has never felt so wrong...
Good book. I really liked Jorie. She was very good at her job and had lots of good ideas. When she first met Ryan, she didn't like him - he was very rude and completely unwelcoming. But she also couldn't deny the spark of attraction. Then she found out that one of her tasks was to plan his wedding. As she worked on that, she got the feeling that there was something very wrong. Ryan also couldn't deny the attraction, but had committed to marry his friend Laurel to help her out. But as the weeks went on, the deception was getting to both he and Laurel. When things come to a head, Jorie ends up leaving the ranch. It was a satisfying thing to see Ryan finally stand up to his mom and Laurel's father, though it certainly took him long enough.