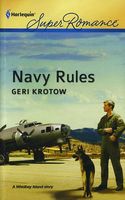 Series: Whidbey Island (Book 1)
Wounded during a military rescue, Commander Max Ford returns to a naval base on Whidbey Island to recover. And part of his treatment involves working with a therapy dog. Max is surprised to learn that the dog's owner is Winnie Armstrong, widow of his closest friend. She and Max were close in those months following her husband's death. But they drifted apart, until that one night two years ago. The night friendship turned to passion...
Now he's even more shocked to learn that Winnie has been keeping a secret from him. A baby girl. His daughter. It's even more important he heal so he can be a part of his child's life -- and Winnie's. Because all the attraction that pulled them together that one night is still there...only stronger.
Very good book. I really liked both Max and Winnie. Max was back on Whidbey Island, recovering from his injuries and PTSD. The therapy dog belongs to Winnie, who he has been looking forward to seeing again. He has been dealing with some of his issues well, but doesn't think he really needs any more therapy. When he finds out that Winnie had his baby and didn't let him know, he feels hurt, betrayed and angry. He is also still very attracted to her. Winnie knows she should have told him, but didn't feel it was safe to hit him with news like that while he was at war, so put it off. Now she has to deal with the emotions, and the fact that she is still attracted also. She also is a big time control freak and stresses over many things. She feels that having lost one man to an early death, she has no intention of getting involved with another man with a dangerous job. I really enjoyed Max's patience with Winnie, even though I really wanted to shake her. He sister did a great job of trying to get through to Winnie about how ridiculous she was being. I did enjoy the ending very much, and can't wait for the next one. Hopefully it will be about Max's friend Miles.