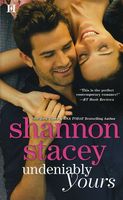 Series: Kowalskis (Book 2)
Can a one-night stand turn into happily ever after?

Bar owner Kevin Kowalski is used to women throwing their phone numbers at him. Even if lately he's been more interested in finding Mrs. Right than Miss Right Now. Enter Beth Hansen.


Kevin and Beth may have started out all wrong, with an impromptu passionate encounter at a wedding, followed by a walk of shame. Yet Kevin knows there's more to their relationship than a one-night stand. Especially when Beth turns up pregnant.


Kevin may be ready for the "next step," but Beth doesn't want a relationship with a former playboy, however irresistible he might be. And it's going to take a lot to convince her to go on a second date with the father of her child....
I liked this book even better than the first one. Kevin found that he was getting very tired of the playboy life he had been leading, and was looking for a chance at a more settled life. When he first saw Beth at his bar one night, then again at his brother's wedding, he really wanted to get to know her better. When she ends up pregnant after their one night stand, he is at first stunned, then incredibly happy. He would like nothing better than to marry Beth and become a family. Beth has been a rolling stone for several years. She spent most of her life being smothered in love from her parents. So when she starts having people get too close, she pulls up stakes and moves on. Now that she is pregnant, she can't do that. She refuses to give up her independence, and will only allow a friendship between herself and Kevin, for fear that he only wants to get close because of the baby. She's afraid that it would end badly and she'd be tied to someone who would come to hate her. I was really impressed by Kevin's ability to be patient with Beth's phobias. He knew that he loved her and just had to be patient enough to overcome her fears. I did want to shake her a few times and tell her to open her eyes. I loved the way that his family made her part of them without making a big deal about, that they listened to Kevin when he told them not to smother her. I really enjoyed seeing the advice he got from the other guys, especially Joe. There were some really funny parts, but I think my favorite was Kevin's reaction to the first childbirth class. I also enjoyed the side story of Paulie and Sam. I thought the way he kept coming back was terrific. The way he stood up to her parents was fantastic and showed that he finally got what she'd been trying to tell him.