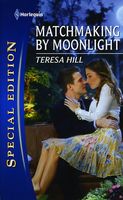 "I now pronounce thee man and...ex-wife?"
Family court judge Thomas Ashford had heard it all. But New Age teacher Lilah Ryan's loopy request for him to perform a "divorce ceremony" for women to heal from their bad breakups took the cake. In fact, divorce was the furthest thing from Ashe's mind whenever Lilah walked into a room. She was just too sexy, too smart...too much for the bachelor to handle! Add to the mix a trio of meddlesome octogenarian matchmakers trying their best to bring Ashe and Lilah together...and, well, the honorable judge had his hands full to say the least. Could the buttoned-up legal eagle let loose enough for this free spirit...or was this one for the star-crossed lovers record book?
Very good book. I wasn't sure at first if I was going to like it. Ashe was just so uptight and disapproving of Lilah that I couldn't see how they were going to make it work. He had been more relaxed when he was younger, but especially since becoming a judge, he had become very conscious of his actions and reputation. But from the moment he met Lilah he was fighting a losing battle. Lilah was a life coach who had made it her mission to help women recover from the traumas of divorce. From experience, she knew that the process didn't stop when the divorce was final, and she wanted to help. She gave classes on everything from finances to feeling good about yourself. Some of the things she did really raised eyebrows, but they worked. Ashe found that she was irresistible to him, not matter how hard he tried. After getting caught in a couple of compromising situations, he tried to pull away but couldn't. They finally gave in, and he discovered that Lilah just plain made him happy. He decided to stop fighting it and they spent several weeks actually dating and getting to know each other. The final scenes when Lilah was in danger woke Ashe up to just how much she meant to him. There were several places in the book that had me laughing out loud. Ashe was just so out of his depth and confused by Lilah that made him totally appealing to me.