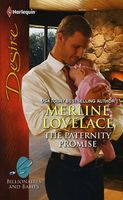 Series: Billionaires and Babies
"You're the father."

After leaving her late cousin's baby on the Dalton doorstep, Grace Templeton poses as a nanny to discover which of the billionaire twins is the father. Grace promised to protect the child, but she didn't plan to fall for the seductive brother she learns is the daddy.


For single dad Blake, there's only one priority -- protecting his daughter from whatever secrets Grace won't reveal. He'll get the truth from her -- any way he can. And until she talks, he'll keep the temptress at his side all day...all night.


Not as the nanny, but as his wife!
Loved the book. It was a follow on to The Paternity Proposition and confirms that Blake is Molly's father. Blake is stunned, but thrilled to find out he is Molly's father. Especially since he thought that the woman who was her mother had died well before Molly was born. When he found out Grace's part in the deception, he was furious. All Grace had wanted was to find out which man was Molly's father and make sure that Molly would be safe and loved. Once that was assured, she left them and went home. Blake showed up a short time later and proposed a marriage to give Molly the family she deserved. Grace was already half in love with him, and went along with the marriage to be close to Molly. Blake knew that Grace was still keeping secrets, but wanted her in his life anyway. I loved seeing them spend time together on their honeymoon in France, and watch them get to know each other. I could see Blake falling under Grace's spell, and Grace fall the rest of the way in love. When they returned to Oklahoma City, and Grace's attempts to protect her cousin Hope from her abusive husband came to light, both of them had to decide what they were willing to put into their marriage. When Blake nearly lost Grace, he finally realized just how much he cared.