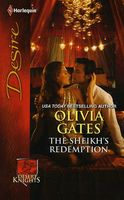 Series: Desert Knights (Book 1)
He would claim the throne. And her...

For Prince Haidar Aal Shalaan, taking the reins of a kingdom in chaos is a matter of honor. Not that his rivals to the throne would be defeated easily. And then there is Roxanne Gleeson, the one woman whose memory he cannot erase, the lover who once rejected him. Now she pretends a cold disdain for their once -- and still -- desperate passion. But he will not be denied either the throne of his motherland or Roxanne back in his bed. One is his birthright, the other his heart's desire. And together they are...his redemption.
Good book. I wasn't sure at first if I would like it, because Haidar was such a cold, vindictive guy. He had returned to Azmahar as one of the men in the running to take over the country. He saw this as a way to make up for his mother's evil ways. He was also going to get Roxanne back in his bed. Roxanne was back in the country as a political economist, to help the country recover from the disaster the previous ruler had caused. She knew she would end up seeing Haidar again, and wanted nothing to do with revisiting the past. This book had a lot of emotion - neither Haidar nor Roxanne was subtle about them. It became obvious, as more confrontations took place, that there were things going on that neither one had been aware of. There were several times that a lack of communication nearly caused disaster in their developing relationship, and I just wanted to smack them both. The confrontations with his brother Jalal and former friend Rashid show that there are still conflicts to resolve in the next books. I was glad to see that Haidar finally learned the benefits of opening up.