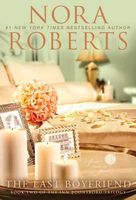 Series: Inn Boonsboro (Book 2)
Owen Montgomery is the organizer of the Montgomery clan, running the family's construction business with an iron fist - and an even less flexible spreadsheet. And though his brothers bust on his compulsive list-making, the Inn BoonsBoro is about to open right on schedule. The only thing Owen didn't plan for was Avery McTavish... Avery's popular pizza place is right across the street from the inn, giving her a first-hand look at its amazing renovation - and a newfound appreciation for Owen. Since he was her first boyfriend when they were kids, Owen has never been far from Avery's thoughts. But the attraction she's feeling for him now is far from innocent. As Avery and Owen cautiously take their relationship to another level, the opening of the inn gives the whole town of Boonsboro a reason to celebrate. But Owen's hard work has only begun. Getting Avery to let down her guard is going to take longer than he expected - and so will getting her to realize that her first boyfriend is going to be her last...
Excellent book. I loved seeing Owen and Avery get together. They've known each other all their lives as friends, but suddenly they are seeing each other in a whole new way. Owen is a planner, always has his eye on the goal and the steps needed to get there. This thing with Avery is way out of his comfort zone, but it feels right. Avery has always had a thing for Owen, but never expected to feel this way. Avery has spent a lot of time with Owen and the others getting the Inn ready to open. I loved seeing the way that Avery's fun attitude balanced out Owen's extreme planning tendencies. Avery had some issues of trusting emotions, thanks to her mom, but Owen had the patience to deal with them. I loved seeing all the details of the Inn, as it gets decorated and prepped for opening. I also loved seeing the ghost and how she was part of the Inn and interacted with various people. I also thought that their search for her identity and story was a great addition to the story. Her relationship to Hope was a nice touch, and I have a suspicion about the identity of her Bill - can't wait to see if I'm right. There were some great humorous parts -- I loved the scene with Owen, his mom and Avery's dad in the kitchen.