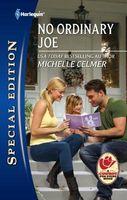 Nothing could stop small-town gal Reily Eckardt from heading to Nashville and living the dream...until her car and cash savings were stolen en route. Now she was high and dry in Paradise, Colorado, population 1,632, relying on the kindness of strangers -- in particular, bar and grill owner Joe Miller. But why did the single dad have to be so gruff -- and cute -- while he was being kind? Her mission: save up and split before getting sidetracked by this sexy enigma.

Sure, Joe could offer Reily a job at his bar. Renting her his garage apartment -- no problem. But giving her a place in his heart -- no way! Poor Joe -- it wasn't long before the country crooner had him singing a different tune.
Good book. I felt so bad for Reily when her stuff got stolen, and so glad when the cop was able to find her a job and a place to stay. When Reily first met Joe, he was a real grouch to her, yet he hired her and gave her a place to stay. They were attracted to each other right away, but both had reasons to resist. Reily was only staying long enough to get the money to continue on to Nashville and Joe had already been hurt by a woman who didn't want to stay. I loved the way that Reily immediately fit in around the town. She was great at the bar, helpful to Joe's aunt, and fantastic with Joe's daughter. Joe found that Reily was coming to mean more and more to him, but he wasn't going to ask her to give up her dreams and stay. I loved the way everything worked out at the end.