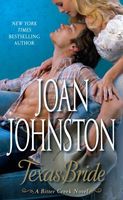 Series: Bitter Creek (Book 9)
HE MAY BE HER ONLY HOPE.
SHE MAY BE HIS LAST CHANCE.
Miranda Wentworth never imagined becoming a mail-order bride. Now marriage to a stranger is her only hope of finding a home where she and her two younger brothers can escape the brutality of the Chicago orphanage where they live. With any luck, she can even start a family of her own, once the three of them are settled at Jacob Creed's Texas ranch. But Miranda has one gigantic concern: Her husband-to-be knows nothing about the brothers she's bringing along. What if he calls off the deal when he discovers the trick she's played on him?
Jake Creed is hanging on to his Texas ranch by his fingernails. His nemesis, Alexander Blackthorne, is determined to ruin him. Jake will never give up, but he's in desperate trouble. His wife died six months ago in childbirth, along with their stillborn son, and his two-year-old daughter needs a mother. The advertisement Jake wrote never mentioned his daughter -- or the fact that he has no intention of consummating his marriage. He's determined never to subject another wife to the burden of pregnancy. But Jake doesn't count on finding his bride so desirable. He doesn't count on aching with need when she joins him in bed. And he never suspected his bride would have plans of her own to seduce him.
Good book. Miranda and Jake's marriage got off to a rocky start. I was really impressed with the way that Miranda got herself and her brothers out of Chicago and to San Antonio to meet Jake. She showed a lot of courage and resourcefulness to make that trip successfully. The fact that she hadn't told him about her brothers and the sisters she left behind was a worry for her, but she had to hope for the best. Meanwhile, Jake hadn't exactly been honest with her either. His ranch was in bad shape and she was expected to care for his daughter and father-in-law too. I really enjoyed the way that Miranda took things over right away and made an immediate difference. I also liked the way she set about trying to get Jake to be a real husband to her. It was pretty obvious that he was fighting a losing battle. I am looking forward to the stories for the sisters.