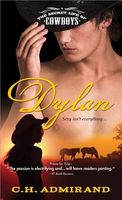 Series: Secret Life of Cowboys (Book 2)
THERE WAS NOTHING HE COULDN'T TAME...
Dylan Garahan might be an old hand at lassoing fillies, but one night at the Lucky Star club, and he ends up wrapping his rope around someone that even his formidable strength can't tame. She's wily and beautiful... and she's his new boss. Dylan's had his heart broken before, but even an honest cowpoke has to wrestle with temptation...
UNTIL HE GOT HIS LASSO AROUND HER...
Ronnie DelVecchio might be fresh off the bus from New Jersey, but she's a hard-edged businesswoman and has had her fill of men she can't trust-although she might consider getting off her high horse for that big, handsome rancher with a Texas drawl.
Very good book. I really liked Dylan and how hard he worked to help keep their ranch going. He filled in as a stripper at the Lucky Star when his brother Tyler was hurt. He works as a carpenter to try to bring in some needed cash. Ronnie arranges to cook for Dylan and his brothers in exchange for him working on her shop. I liked Ronnie also. She was determined not to let the people who destroyed her shop win. They had an immediate attraction to each other, but Ronnie fought it. She had a bad experience with her ex-husband and had no interest in repeating it. Dylan was determined to get her into bed. I really enjoyed their interactions, as he would kiss her, she would participate then back off. I liked the way they had their attraction, but they also got to know each other. Ronnie had quite a temper, and had a tendency to go off before getting the whole story. Dylan was slower to anger and had a great sense of humor, so he balanced her very well. There was lots of sexual tension, and when they finally gave in it was hot. Ronnie and Dylan spent a fair amount of time having mental conversations with their grandparents - I loved some of the advice they got. I loved the townspeople and the way they helped each other. I especially loved Mavis - she knew that Dylan and Ronnie belonged together, and worked to make it happen. I loved the conclusion, and the way that Mavis found for Dylan to rescue Ronnie.