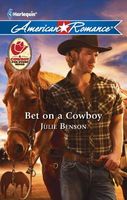 Commitment phobic Colorado cowboy Griffin McAlister has it all figured out. Do the reality dating show, get the money his family desperately needs and go on with his life. Actually falling in love was never part of the deal...least of all falling in love with the show's spunky director.
Maggie Sullivan knows she's found a star the minute she meets Griffin. But as she gets to know the man behind the dimples, she realizes she might have found something more. It doesn't matter, though; she has a job to do. Besides, how could he ever notice her while he's busy wooing ten gorgeous women?
Now Griffin has a choice to make: stick with the plan and lose Maggie forever, or risk everything for a chance to win her heart!
Good book. I liked Griffin and the way he wanted to do something to help out with the ranch and his mom's medical expenses. I found that his plan to be able to do the show without actually having to marry the winner was pretty creative. Maggie was drawn to Griffin from the beginning, but had a job to do as the producer of the show. I really liked the way that she could see through his carefree attitude to the man and feelings beneath. I thought it was really good the way that she would call him out when he try to get by on just his charm without actually putting some feeling into what he was doing. When she confronted him about the way he would attempt to get by without really trying, it opened his eyes about what he was doing. Maggie had her own issues with self-confidence, and I loved the way that Griffin showed her how much he liked the person that she was. I hope that there will be a story for Avery.