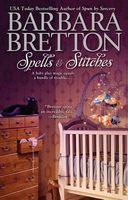 Series: Sugar Maple (Book 4)
In the latest novel from the USA Today bestselling author, raising a baby is hard, but raising one with magical powers is even harder...

Sugar Maple, Vermont, knitting store owner Chloe Hobbs couldn't be happier about her pregnancy. But with the arrival of the town's newest resident, things are about to get a lot more magical.


Baby Laria is six pounds, eleven ounces of perfect, and Chloe and Luke are over the moon. But when they learn that Laria takes after her mom in the sorcery department, it becomes clear that their baby might have more power than even a pro like Chloe can handle...
Good book. I liked seeing Luke, Chloe and the gang again. It started out with Luke's family finding out about Chloe and the baby. He had been planning to wait until after she was born to tell them, because they are loud and interfering. Once they did, Chloe wanted to get together with them because they are family and she feels that family is important. She has found, over her pregnancy, that her magic has been even more unreliable. She also has Elspeth hanging around to protect her and the baby, but she is driving Chloe and Luke nuts. They meet Luke's family a couple hours away from Sugar Maple, and get the MacKenzie third degree from all of them. This stresses Chloe and they cut the brunch short and head for home. Part way there Chloe goes into an accelerated labor and Laria is born. They discover that Laria has come into her powers almost immediately. Meanwhile Luke's sister Meghan has a new boyfriend who is a little strange, and refuses to enter Sugar Maple with Meghan. There is a showdown at the end with a being that was somewhat unexpected. I loved Luke's protectiveness, even in the face of the magick he doesn't understand. I enjoyed meeting his family and seeing the dynamics that made him who he is.