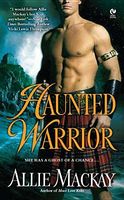 Kendra Chase is exhausted from her work as a ghost whisperer, so she's been looking forward to her vacation in Edinburgh. But work awaits her as the tiny fishing village is being excavated, and supernatural uprisings have been reported.
Graeme MacGrath knows the source of the psychic trouble. The excavation is disrupting the protective veil between this world and darker, more ancient ones. He hates to admit it but he will need the fetching Kendra and her paranormal abilities to save the town he loves from unspeakable evil.
This book was okay. I have read her other books and loved them all, but this one just didn't have the same appeal. It started off pretty well, with Kendra's feel for and interaction with the local ghosts. I had a bit of a hard time with her constant talking about wanting to kiss Graeme again. I got it right off - she was attracted to him, she didn't have to keep saying it. I would have liked to see more of her interactions with the ghosts, since that was why she was there. I did really like Graeme. He was trying to hold out against evil that threatened his town and his world. I really liked seeing him work, and the way he cared for the people of the town. The romance itself was ok, but that wasn't very interesting. My biggest disappointment was that the confrontation between Graeme and Ramsay. It just didn't have the intensity of confrontations in her other books.