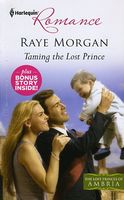 Series: Lost Princes of Ambria (Book 6)
An experienced fighter pilot, Max Arragen became a hero -- and then a prince. He had no desire to celebrate his long-lost royal status, but he accepted it...until it was suggested he should marry.

Kayla Mandrake was brought in to "tame" the new prince, but she didn't expect it to be Max, her late husband's best friend. The same man whose baby she had after a reckless -- unforgettable -- night of passion. How could she face him again...and tell him the truth about their child?
Good book and conclusion to the series. I liked Kayla a lot. She has put together a good life for her and her son, working as the personal assistant to Queen Pella. When the last missing prince is found, she is stunned to find out that it her husband's friend Max. They had shared a night of passion after her husband's death and then gone their separate ways - with Kayla believing that Max had later died. Max was not happy in his role as a prince. He had never been one to follow rules, and this was making him very uncomfortable. He also has a tendency to run when things start to get uncomfortable. When he saw Kayla again, he was very happy. He had great memories of the time the three of them spent together, and wanted to remember those times with Kayla. The two of them acknowledged their attraction, but Kayla felt they should ignore it because of his new status. When Kayla is kidnapped to draw Max out, he realizes what he feels is love, and causes his entire outlook to change.