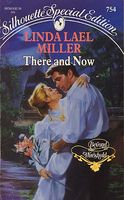 Series: Beyond the Threshold (Book 1)
Heartsick from Seattle's rat race, Elisabeth McCartney sought her childhood haven, never suspecting the Pine River house harbored an escape hatch to an earlier era, its key the necklace she clutched to her chest ....
Tumbling over the threshold and back in time, T-shirt clad Elisabeth scandalized formidable single father Jonathan Fortner, the virile Victorian whose bedchamber she broached. Jonathan's daunting demeanor bid her flee to the future . . . but his timeless sensuality serenaded her soul with a love song that would echo throughout eternity ....
Very good book - definitely different than what I am used to from Ms. Miller. When Elisabeth arrived in Pine River she had come for a new job as a teacher and to recover from her divorce. One night, while wearing a necklace from her aunt, she went through a door into the past. The man she met there, Dr Jonathan Fortner, was understandably very suspicious of her and didn't believe her story. She escaped from him and returned home. She then went back, after finding out that he and his daughter would die tragically, and tried to convince him. As a man of science, Jonathan thought that Elisabeth was imagining things, but found himself falling in love with her. I really enjoyed seeing Elisabeth as she coped with the past, tried to convince Jonathan of the danger, and adored Jonathan's daughter. The conclusion of the story was terrific, and I have ordered the second book in the series about Elisabeth's cousin Rue.