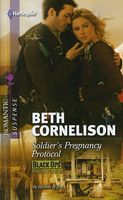 Series: Black Ops Rescues (Book 1)
Survival. Danger. Living on the edge. It's what Alec is all about. But crawling on his belly through the South American jungle is child's play next to babysitting the mother-to-be with the bad luck to get caught in the cross fire. Safeguarding Erin Bauer and her baby is Alec's top priority. Only, now the Special Ops soldier is falling for this brave, vulnerable woman with the melting mahogany eyes.

Alone with Alec in a remote Rocky Mountain hideaway, Erin knows her life depends on the rugged, enigmatic stranger. Alec makes her feel protected. Cherished. Complete. But he lives a life of risk and deadly danger. How much is Erin willing to risk for a love that could give them both what they need and desire most?
Good book. I liked Erin's ability to think on her feet when things got rough. She didn't get hysterical or anything like that. I also enjoyed seeing her help Alec even though he kept trying to shut her out. Erin had had a bad experience with a man who lived life on the edge - he husband had been an adrenaline junkie and died that way. She didn't really want to get involved with another man like that. Alec had been doing black ops for years and felt that he could not offer a good life to any woman. His past life had not exposed him to any kind of the gentler side of life, but he found himself wanting to protect her and be with her. I really enjoyed watching Alec open up to Erin. I loved the way Daniel gave Alec a figurative slap upside the head at the end.