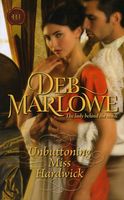 Adopting the guise of a buttoned-up spinster is nothing new for Chloe Hardwick. But under the watchful eye of her unnervingly handsome employer, the Marquess of Marland, for the first time Chloe yearns to be unbuttoned! Yet he sees her only as his assistant, the efficient Hardwick -- not as Chloe the woman.
Determined to escape Braedon's cold detachment, Chloe leaves. And when he pursues her to London, determined to entice her back, Braedon is utterly unprepared for what he finds there -- the real Chloe Hardwick....
Good book. Chloe has done an excellent job as Braedon's assistant. She has come to the point that she longs to find the real her, under the disguise of the so efficient Hardwick. She also realizes that she has fallen for Braedon, and that he is unlikely to love her back. So she goes to London with Braedon's sister, to assist that lady with the planning of a special party. Braedon can't believe that Chloe has left. She was there one day, in her shapeless clothing, doing her job. Then she appeared one night wearing one of his sister's dresses, and leaves the next day. He follows them to London, hoping to talk her into coming back, but ends up involving her in a search for a special artifact. Braedon has always kept a tight lid on his emotions, but spending time with the new Chloe has put some cracks in the walls around his heart. I love the way she keeps getting under his skin, He unwillingly opens up about something, then retreats. When the confrontation with a bad guy occurs, she is badly shaken, but then leaves him. I loved seeing him grovel at the end.