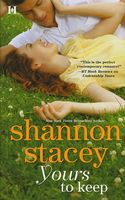 Series: Kowalskis (Book 3)
Love blossoms when you least expect it...

Emma Shaw needs a husband, and fast! Not because she's interested in romance -- after all, she's too busy with her landscaping company -- but because Grandma Shaw is coming to town, and she will have nonstop questions about Emma's (stagnant) love life.


Sean Kowalski no sooner leaves the army than he's recruited by Emma to be her fake fiance. Sean doesn't like the deception, but he can't help his attraction to the feisty brunette. A little pretend kissing won't hurt anyone -- especially when there's no chance he'll fall for a woman with deep roots in a town he's not planning to call home. But when fake, innocent kisses lead to very real, explosive sparks, Emma and Sean discover that their big ruse might just lead to happily-ever-after....
Good book. I liked the idea behind Emma's request of Sean - she really did want to set her grandmother's at rest. Sean couldn't believe he had agreed to participate in the deception, but he couldn't stop thinking about her. I loved the way that they started the pretending and things started getting real. Sean seemed to be so intent on moving on that he didn't see what was right in front of him. I really enjoyed seeing Emma's grandmother get with Mary Kowalski and collaborate on keeping Sean and Emma doing their deception so they would see how right they are for each other. I really liked the interaction between Sean and Emma as they learned about each other. I loved the way that Sean's cousins picked on him and the part where Mary was giving advice to Sean with the wooden spoon to the back of the head was great.