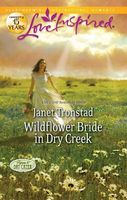 Series: Dry Creek (Book 23)
Marry a secure businessman, or become a bunkhouse cook for twenty hungry cowboys on a cattle ranch? When Angelina Brighton chooses the ranch, she runs from the wedding her billionaire father arranged. Angelina won't marry a man she doesn't love. Then along comes former special ops soldier Tyler Stone, barreling into Dry Creek to bring her back home. Or so she thinks.
But Big Sky country is full of surprises for everyone—especially for a faithful gal and rugged cowboy who discover what home really means.
Liked the book. It was a "gentle" romance, as the Love Inspired line is, so not my usual fare. I really liked Angelina. She had grown up and changed from the spoiled, flighty girl Tyler had known before. She had come to Dry Creek to avoid the wedding her father had tried to arrange, and because Tyler had talked about it when she knew him before. Tyler had come home to bring Angelina back to her father. He didn't know that his mother and brothers were back, and that they hadn't been told he was actually alive after being wrongly listed as killed in action. Everyone, including Angelina, got quite a surprise, but were very happy to have him home. I loved the way that Angelina became so much a part of the town. It was hard for Tyler to believe that she had changed that much. He also still felt that he wasn't good enough for her, but she was doing her best to change his mind. I liked the way they dealt with her father when he came, and how she reconciled with him. The book had a very satisfying ending.