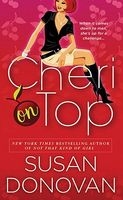 Series: Bigler (Book 1)

Sun-drenched beaches, designer-label clothes, drop-dead-gorgeous boy-toys...all paid for with a series of high-risk real estate deals. That's the lifestyle Cherise Newberry and her BFF Candy enjoy after leaving rural North Carolina for Tampa -- until the market tanks and they lose everything. Cheri is surviving on Ramen Noodles and temp jobs when she gets a call from home to come back and run the family's small-town newspaper. Just one catch: She'll become the boss of her high school crush -- and former brother-in-law -- who might have the power to crush her all over again...

But Cheri is surprised to see how "bad boy" J.J. DeCourcy has grown into the hard-working and principled managing editor of The Bigler Bugle. Still, according to Cheri's bitter sister, he's not to be trusted. If Cheri's going to co-exist at the with this sexier-than-ever man from her past, she needs to stay professional -- and keep her distance -- even though he sets her on fire. When they're handed the biggest news story in the town's history, Cheri must trust J.J., even it means putting her life in danger....and her heart on the line.
Really fun book. I loved seeing Cheri as she returned to the hills of North Carolina. She had left to make her mark on the world, then that mark got erased when the real estate market crashed. Now she's back and running the family newspaper. I loved the way she tried to keep JJ at a distance, but the attraction and feelings of the past were just too strong. Then, as a local murder mystery heats up, they have to work together to find out what is going on. I liked JJ a lot. He obviously cared for Cheri, and I loved the way he kept helping her. I also loved how well they worked together to solve the mystery. I wished that Cheri had been up front about her financial situation from the beginning, but it did make for some fun at the end. There were a lot of unique characters, and they all added something to the story. I'm looking forward to seeing them again in the next book.