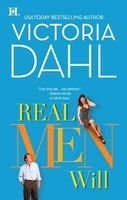 Series: Donovan Brothers Brewery (Book 4)
It was meant to be a one-night stand. One night of passion. Scorching-hot. Then Beth Cantrell and Eric Donovan were supposed to go their separate ways. That's the only reason he lied about his name, telling her he was really his wild younger brother. Hiding his identity as the conservative Donovan. The "good one."
But passion has its own logic, and Eric finds he can't forget the sable-haired beauty with whom he shared a night of love. When Beth discovers that Eric has lied, however, she knows he can't be trusted. Her mind tells her to forget the blue-eyed charmer. If only every fiber of her being didn't burn to call him back.
Very good book. This continued the story of Beth and Eric that was begun in the anthology "The Guy Next Door". I was bummed at that time that they left the story hanging - it would have been better as the beginning of this book. If you haven't read the story, you don't know the background. This book was full of all kinds of angst. There was conflict between Beth and Eric over his lying about his name. There was conflict between Eric and Jamie for that, and other unresolved issues. There was inner conflict with Beth's keeping what she does secret from her father. And Eric's conflict with himself because he isn't happy and doesn't really know why. Plus we are waiting for a resolution of the whole Kendall issue. I did like both Eric and Beth. Eric was determined to make the brewery everything his father would have wanted. Unfortunately, he tends to be rather controlling which ticks off his brother. When he meets up with Beth again she discovers his deception, and is understandably angry. She is also still physically attracted to him. I loved the way that they found that they couldn't stay away from each other. And the more time they spent together, the more they actually liked each other. Both of them had issues with trying to be something they weren't, which caused many of the problems they had with each other. I wanted to smack Eric and Jamie a few times, to get them to actually talk and listen to each other, but things did work out for them in the end. The scene between them at the cemetery had me in tears.