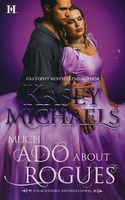 Series: Blackthorn Brothers (Book 3)
Who is the darkly handsome Don John "Black Jack" Blackthorn? With his air of mystery and menace, the whispers about him hint of highwayman or government agent or even dark prince. But no one knows what it is Black Jack does...or how dangerous he can truly be. Now Jack's mentor has disappeared, and Jack must track him down before it's too late. His unlikely help: the man's daughter -- the very woman Jack had once wooed and betrayed.

Lady Tess Fonteneau knows more about the fine art of clandestine activities -- and about the mysterious Mr. Blackthorn -- than he realizes. As their journey leads them on the adventure of a lifetime, their reunion is fraught with passion, high-stakes danger and the one twist of fate Jack never saw coming....
Very good book. I liked Jack when he appeared in the previous books. His role in this book is to track down his missing mentor. In doing so, he meets up again with Tess, his first love whom he has never really forgotten. Their initial meeting is not friendly, and you get an idea of all the issues they will have to overcome. Tess is not very happy to see Jack at first, as she still blames him for her brother's death. As they spend time together trying to find her father, they both find out that there are many things that are not what they appeared to be at the time. Jack also has to come to terms with the issues of his parents in this book, and there are a couple of surprises dealing with that. Tess also finds that her father is not the man she thought he was. There is a lot of convoluted activity in this story, as Tess's father is creating events that will cause people to do what he wants them to do. I enjoyed the whole book, but the last third was the best, and the final showdown was great.