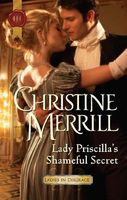 Series: Ladies in Disgrace (Book 3)
Outspoken Lady Priscilla is the only woman in London brave enough not to simper at Robert Magson. As the Duke of Reighland, he needs a wife and this captivating woman would surely keep life interesting!

Despite the obvious sexual attraction between them, Lady Priscilla doesn't wish to marry -- ever -- for she hides a shameful secret. Surely a duke deserves more than a ruined woman? But once Robert sets his sights on something beautiful, he will do anything in his power to claim it!
I loved this book. Priscilla doesn't intend to marry. She foolishly eloped the previous year with an unsuitable man, did not marry him, and was assaulted by him in the process. She did this in an attempt to escape her father. Now she attends few functions, as her father won't allow her to attend anything where her sister is present (see Book 2 - Lady Drusilla's Road to Ruin), and he and her stepmother are pressuring her to marry. Her father has encouraged the Duke of Reighland, as a way to get rid of Priscilla and make an alliance beneficial to himself, and won't allow Priscilla to refuse. Robert is looking for a wife that will help him settle in to his role as the Duke, and who won't bore him to death in the meantime. Priscilla is the only one who doesn't suck up to him - she is doing everything she can to discourage him. I loved the way that he doesn't let her scare him off with her attitude. When she finally realizes that he is the best she'll be able to do, she is honest with him about her past, which he appreciates. I thought the way that he realized that her problem with him could be solved with patience and gentle attention was fantastic. I loved the fact that they finally realized they could be happy together. When the nasty man returns to make trouble for Priscilla, she breaks off the engagement to Robert to protect him from her scandal. I thought the way that Robert got her to stand up to society was fantastic, and then his actions at the dinner were priceless. This was a terrific conclusion to the series.