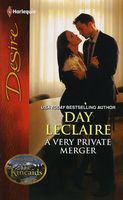 Series: Dynasties: The Kincaids (Book 6)
Winner-take-all business tycoon Jack Sinclair is on the hunt to get what's his: a slice of competing shipping empire The Kincaid Group. As the illegitimate and ignored heir, his reward has been a long time coming. And he has sexy, brilliant Nikki Thomas by his side to help make it happen. Right?

Not exactly. Nikki is a corporate investigator on the Kincaids' payroll, so her loyalty is more than a little divided. Her hidden agenda is enough to make Jack want to walk away. But passion offers a second chance -- until another truth is revealed that could tear them apart for good.
Very good book. This is the final chapter in the story of the Kincaids. The lead-in is found at the end of end of each of the previous five books, where we see how Jack and Nikki meet, and the beginning of their relationship. When the series first started, Jack was a first class SOB, intent on revenge. He has always felt like an outsider, due to the fact that his father kept Jack and his mother secret from the rest of the family. Nikki worked for the Kincaids, but tried to keep her work for them separate from her relationship with Jack, but knew the day of reckoning was coming. When it did, Jack was very angry. But, he did get over it pretty quickly, when he understood that Nikki had not betrayed him. Nikki felt she knnew Jack very well, and was very good at making him see his actions and those of others in a different way. She was also determined that he would become part of the family, though he resisted all the way. She also had yet to fill anyone in on the owner of the missing ten percent of shares. There was also the ongoing mystery of who had killed Reginald Kincaid, though that was not too hard to figure out. I really liked the way they worked together to discover the murderer. I also loved the conclusion, with the outcome of the board meeting and then the family dinner at Jack's house.