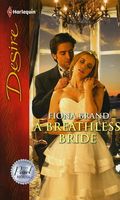 Series: Pearl House (Book 1)
After becoming the reluctant owner of the company that had cost him his fiancee, Constantine Atraeus wants more. Controlling Ambrosi Pearls would not be complete without enticing Sienna Ambrosi back into his bed. His ex-lover, however, won't be won over with simple promises and elaborate seductions. A legally binding contract has to be made.
So Constantine proposes the ultimate marriage bargain. If Sienna becomes his wife, she'll retain shares in her family's precious company. But she'll be bound to him forever. It is a union potentially worth billions. And it is a price Constantine is more than willing to pay.
Good book. The conflict between Constantine and Sienna was very intense. Their short-lived engagement two years before had not ended well. Both had made mistakes, and now he was back in her life. Sienna was stunned to find out that Constantine now owned a majority of her business, thanks to her late father's gambling losses. Constantine wants Sienna back, and is willing to basically blackmail her to do it. Sienna finds that she has never stopped loving Constantine, but has no idea how he really feels. She is willing to take a chance and marry him in hopes that it will work out. When he shows that it is just a business deal to him, she is hurt and furious. I had some real problems with Constantine. He knew he wanted Sienna, and was used to getting what he wanted. But he seemed far more interested in controlling everything about her, including firing her from her job and telling her what she should wear to a couple of his parties. It took awhile for me to realize that it wasn't so much control, as his insecurity that he wouldn't be able to compete with her company. I loved the way that she took his "suggestions" for her wardrobe and put her own twist on them. In the final confrontation, he finally realized what he was doing and how badly he had messed up.