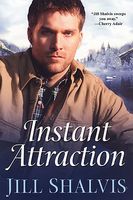 Series: Wilder Adventures (Book 1)
Get Wild...And Then Get Wilder...
Accountant Katie Kramer is a quintessential good girl--working hard, recycling diligently, all the while trying to ignore the feeling that she doesn't fit in anywhere. That's all she wants. Well, that--and amazing sex, and the kind of daredevil escapade she can look back on when she's crunching numbers in a dusty cubicle. Which explains why she just took a job in Wishful, California, working for Wilder Adventures and Expeditions. Waking up to find a magnificently built stranger towering over her bed--that part defies explanation...
After wandering the planet for months following a life-changing accident, Cameron Wilder has come back to the only home he knows. Under other circumstances, he might be thrilled to find a gorgeous woman sleeping in his cabin, but now, while he'll risk his body taking clients on adrenaline-drenched excursions, his heart is off limits. Still, Katie's killer smile triggers something deep in his gut...among other places. Showing her how exhilarating it can be to stop balancing her life as if it was a checkbook is the biggest rush he's ever felt--and an adventure Katie's wishing would never end...
Really good book. I loved Katie. After surviving a terrible accident, she is tired of living life in a safe way. So she hops in her car and heads out looking for adventure. She ends up in Wishful CA working as a temporary bookkeeper. When Cam returns after a year away, they are instantly attracted to each other. But Cam won't get involved as he is still trying to accept that his previous life in extreme sports is over. However, he sees that Katie is trying to experience as much adventure as she can, so he decides to help. As they spend time together, the attraction gets stronger, but neither wants to give in. Katie is enjoying experiencing new things with Cam, and then decides that since she'll be leaving soon anyway, she'd go ahead and have a fling with Cam. Both of them have no trouble seeing what the other needs, but just can't do anything about their own issues. Katie is also good at telling Cam when he is being an idiot. I loved seeing Katie's adventures, and the scene where she gets drunk with Serena and Harley was hysterical. There were a lot of places that were laugh out loud funny, and a few places that made me cry for both Cam and Katie. I also loved the way that everyone could see that they were in love, but they (especially Cam) refused to admit it.