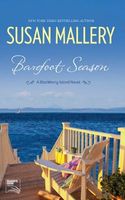 Series: Blackberry Island (Book 1)
Michelle Sanderson may appear to be a strong, independent woman, but on the inside, she's still the wounded girl who fled home years ago. A young army vet, Michelle returns to the quaint Blackberry Island Inn to claim her inheritance and recover from the perils of war. Instead, she finds the owner's suite occupied by the last person she wants to see.

Carly Williams and Michelle were once inseparable, until a shocking betrayal destroyed their friendship. And now Carly is implicated in the financial disaster lurking behind the inn's cheerful veneer.


Single mother Carly has weathered rumors, lies and secrets for a lifetime, and is finally starting to move forward with love and life. But if the Blackberry Island Inn goes under, Carly and her daughter will go with it.


To save their livelihoods, Carly and Michelle will undertake a turbulent truce. It'll take more than a successful season to move beyond their devastating past, but with a little luck and a beautiful summer, they may just rediscover the friendship of a lifetime.
Very good book. Michelle returned to Blackberry Island with several issues to deal with. First was her recovery from war injuries and dealing with her PTSD. Then she had to take over running the inn. She also had to deal with her former friend Carly, who has been running the inn while Michelle was away. Seeing Michelle as she tried to cope was sometimes very painful. From the outside looking in, you can see that the drinking is making it worse, and the stresses of the inn are not helping either. I liked seeing that she had people who were worried about her and wanted to help if she would let them. Jared especially was very good at being there when he was needed. I liked when he gave her the dog to help. There were many problems with the inn, not the least of which were the mortgages that she knew nothing about. I loved the fact that she and Carly were able to work together to do what was needed to save the inn. It also helped them start to repair their relationship, which both of them needed. The addition of Sam and Jared to their lives was just what they needed. I loved the way the two of them banded together to stand up to the bank bitch. I'm looking forward to the next one.