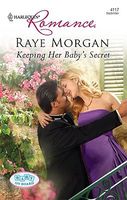 Series: Baby on Board
"You can count on me. You don't have to be alone."

Diana Collins can't believe she's hearing these words from her former secret crush, Cameron Van Kirk. Popular, gorgeous and from the richest family in town, he was always out of her league.


Now Cameron's back after ten years, and he's telling Diana -- who is pregnant and alone -- that he wants to help her.


His duty is to his family dynasty. Hers is to her baby, whose secret she's keeping. What's Diana to do?
Good book. I liked Diana. She had built a good life for herself after a pretty bad childhood. She now had a successful business and a baby on the way. Then, after ten years, Cam came back to town. He had come to try to rescue his family from their financial disaster. He also realized that he had never forgotten Diana, and was incredibly attracted to the woman she had become. I liked the fact that he kept telling his family that they were wasting their time trying to get him to marry for money. I have to say that I didn't like his family much. His sister was a bit of a bitch, though she got a bit better by the end. His mother was unwilling to face reality, and kept trying to push various women on him. His grandfather was stuck in the past, though he did redeem himself at the end. Diana had issues with believing in her own worth. She refused to believe that she was good enugh for Cam, and kept pushing him away. I wanted to smack her and tell her to join the 21st century. I liked the way things worked out for them.