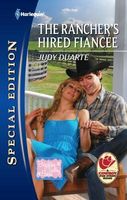 Series: Brighton Valley Babies (Book 2)
FAKE FIANCÉE...TRUE ROMANCE!
The Antonio Banderas look-alike standing on the porch in Western gear wasn't at all what actress Catherine Loza had expected. But when the tall, dark and totally irresistible rancher asked her to play the role of his fiancee to get the local matchmakers off his back, well...it was an offer the actress couldn't refuse.
Brighton Valley mayor Ray Mendez thought he'd come up with the perfect plan. But as his fake engagement awakened stirrings of real romance-and real passion-he soon found himself wondering if he could persuade his costar to make their arrangement of convenience permanent. A proposal from the heart-and a baby on the way!-might just convince her that he was for real....
Very good book. Ray was a terrific hero - an honestly nice guy. He had been burned by his ex-wife and was not interested in a new relationship, but the local single women were making his life miserable. Catherine had come to Brighton Valley to visit friends and get away after a relationship gone bad. When Ray asked her to play the part of his fiancee she said yes. The pretense felt real from the very beginning. Ray was very cautious, because of his experience with his ex-wife, and wasn't sure if what he saw in Catherine was real or just very good acting. Catherine felt that she could easily fall in love with Ray, but wasn't sure she wanted to give up everything she had worked for. I loved the way everyone in town liked and respected Ray. I also loved the way that Catherine got involved in working with the kids at the schools with the talent show and drama departments.